Founder Profile
Ram Agarwal, B.Com., FCA – Founder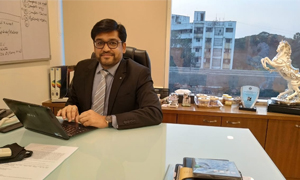 Ram Agarwal is the Founder of RAMA. He has more than two decades of multi layered, multi disciplines 360° professional experience in the field of Risk Advisory & Management Assurance, Corporate Finance and Business Advisory services.
He has done his graduation from Commerce College, Rajasthan University Jaipur and is member of Institute of Chartered Accountants of India.
Ram has got extensive experience handing Internal & Management audits, Risk Based Internal audits, New Process Design, Process Review, Re-engineering & Transformation, Revenue Assurance, Business System Controls, Enterprise Risk Management, SOP Design, Financial Due Diligence, Fraud Investigation and ERP Implementation.
He has served SME, Mid-size and Large corporate clients across sectors including Manufacturing, Retail, Textiles, Power, Real Estate, Engineering, Chemicals, Pharma, FMCG, EPC, Shipping and Logistics domains.
Ram has worked closely with several Indian prominent corporate houses and multinationals companies during his career. He has also worked for International Clients in Middle East, Europe and South East Asia regions.
With his all-round multi-faceted experience and exposure, Ram is best known for his apt & focused approach in delivering quality professional services to clients and successfully executing highly challenging and complex nature of assignments. His instrumental role in developing the New Service verticals and overall firm & practice development across geographies during his past assignments speaks of his proven leadership and entrepreneurial abilities.
Ram holds good command over subject matter expertise and presentation to the top management, independent directors and audit committees. He is an avid trainer cum speaker on various topics pertinent to his area of expertise.
Prior to venturing RAMA, he has worked with leading CA firms like Chaturvedi & Shah, A. F. Ferguson and Mahajan & Aibara etc. for 13 years. Also, he worked in industry with Reliance (Info-comm) and Tata Group companies for 4 years.
A summary of Ram's professional experience and exposure across Industries:
| | | | | |
| --- | --- | --- | --- | --- |
| Management Audits, Internal Control Reviews, and Risk Based Internal Audits | Process Review, Re-engineering and Developing SOPs | ERP Consulting & Implementation | Corporate Finance, Business Advisory and Due Diligence | Fraud Investigations, Cost Reduction and Special Assignments |
| Textile & Apparel | Manufacturing | Manufacturing | Chemical, Pharma | Real Estate |
| Real Estate & Infra | Telecom | Processing | Dairy Products | Jewellery |
| Retail & Hospitality | Retail | Packaging | Gems & Jewellery | Hospitality |
| Gems & Jewellery | Textile, Apparel | Chemicals | Power & Energy | Entertainment |
| Manufacturing | Jewellery | Retail | Manufacturing | Textile |
| Chemical & Pharma | FMCG,Processing | Textile | Shipping,Logistics | Power,Energy |
| FMCG & Processing | Engineering,EPC | Jewellery | Media, Advertising | FMCG |
| Plastic & Packaging | | | Entertainment | Packaging |
| Engineering & EPC | | | Plastic,Packaging | Mall Developer |
| Shipping & Logistics | | | Retail | Manufacturing |